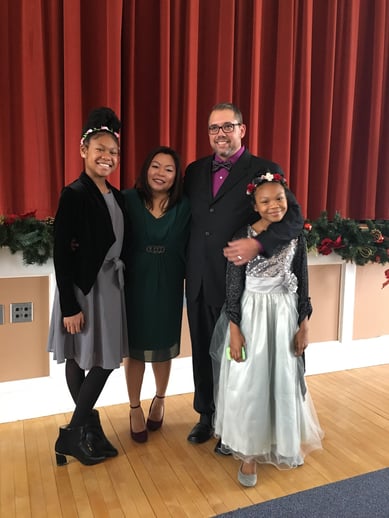 "I want to go into hospice nursing. I want to advocate and make sure my patients are ok when they pass."
When nursing is in your heart, you will find a way to make it work. Ciara Jaro, a project manager for a cable service provider, has always dreamed of becoming a nurse but had to wait until the time was right.
"I've been working as a project manager for 7 years. Nursing is a total career change! I always wanted to be a nurse, but it wasn't the right time as far as life was concerned before now. Now my kids are 11 and 13 and more independent. I have support from my husband, who is really great and finances are stable. Financially stable and my kids are more independent. My job is also really great about my schedule and accommodating my school time," says Jaro.
Even with all of the support in place, going back to school is not easy. "I'm always on the go. Life is definitely crazy. But Labouré's schedule is really accommodating- I go in the evenings and the staff in the One Stop really answered my questions and took a chance on me. Now, I'm trying to mesh my life with Labouré," says Jaro.
Working full-time outside of healthcare and attending classes, skills and simulation labs, and clinicals means that Jaro is constantly on the go. "I work from 7-3 at my full-time job on school days. Then, from 3 PM to 4 PM I travel to school. Then I'm in class from at 4 PM to 8:30 PM. On Saturdays, I'm in clinical all day, usually from 7 AM to 4 PM." Even though her days are jam packed, Jaro says that her clinical experiences are one of the best parts of the program. "My clinical instructors make sure that I understand what is going on and how to apply what we've learned in class. It's different for me because I don't have a medical or healthcare background. Denise Edinger and Cheryle Michaels, my instructors in NUR 1020 were so genuine and really helped me as much as they could," says Jaro.
After graduation, Jaro is interested in a career in hospice nursing. "I want to advocate. I'm really spiritual. My mother passed away from cancer and I was there working with her nurses at the end and making sure her wishes were honored. Speaking for hospice patients and those who can't speak for themselves just gives me a great feeling- I want to make sure they're ok when they pass."