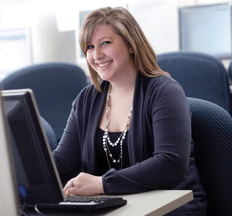 The College is awaiting recommendations from the Commiss­ion on Accreditation for Health Informatics and Information Management Education (CAHIIM) for program changes that will better serve graduates. The College expects to implement these recommendations, which will bring about a state-of-the-art degree program. Interested students should seek further information from the College's Office of Admissions as well as from the program Chairperson.
Labouré's Associate in Science in Health Information Technology (HIT) will prepare you to enter a growing field with limitless career possibilities. Graduates of this accredited, two-year program are prepared for examination by AHIMA to earn the designation Registered Health Information Technician (RHIT). There are two academic paths in this division: the Associate in Science degree and the Online Medical Coding Certificate program.
The Online Medical Coding Certificate and Online Clinical Documentation Improvement Certificate are currently accepting applications.
Registered Health Information Technicians:
Ensure the quality of medical records by verifying their completeness, accuracy, and proper entry into computer systems.
Use computer applications to assemble and analyze patient data for the purpose of improving patient care or controlling costs.
Often specialize in coding diagnoses and procedures in patient records for reimbursement and research.
Can work as cancer registrars - compiling and maintaining data on cancer patients.
"My decision to attend Labouré College was an easy one. Once I researched HIM programs on the AHIMA website and saw Labouré was listed, I applied. The Labouré name is so well known in the Boston healthcare world that I didn't even think about it twice! I was hired as the HIM director's administrative assistant as a student at Labouré and still hold that position. I obtained my RHIT credential and plan on taking the CCS exam early next year."
- Sherisse Monteiro, RHIT, Class of 2011, Brigham and Women's Hospital