Recent graduate, Lina Sheridan, RN, BSN, is a nurse in the Operating Room at Massachusetts General Hospital. Wondering what exactly an OR nurse does? Lina shares a day in her life.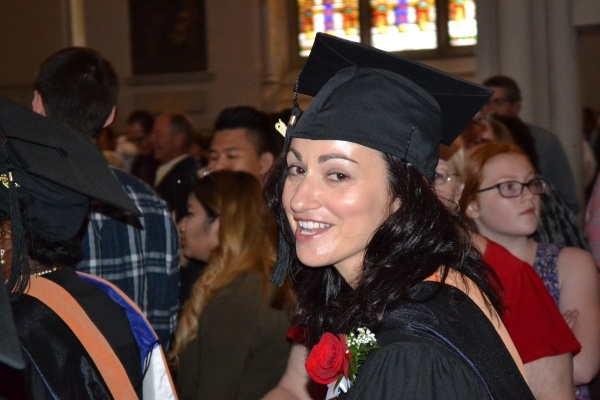 Where are you working right now?
I am currently a perioperative staff nurse at Massachusetts General Hospital Operating Room.
What is your professional background?
I have been in healthcare [all of] my adult professional life. I [also] have Bachelor's Degree in Biology.
How did Labouré's BSN program help you become a better RN?
Labouré was very good at getting me to see the larger picture of patient care and healthcare in general. There are many external forces present in today's healthcare setting that impacts your professional nursing career, which I came to have a better understanding of. For example, the emphasis [now is] placed on evidence-based nursing, which I had heard mentioned at work a few times [and] really came to understand more fully through my courses.
Why did you choose to attend Labouré's hybrid RN-BSN program?
I chose Labouré because I had a good experience from my interactions with the school when requesting information on the program and during the application process. I knew the school was small enough that it was easy to ask questions when I needed help. It seemed like everyone knew everyone else which helped decrease my anxiety about returning to school after being away for 14 years.
What is a typical shift like for you in the OR at Massachusetts General Hospital?
I take care of perioperative patients. My typical shift can be either 8 or 12 hours. I obtain my assignment, then review the surgical schedule, review my patient's chart and prepare the operating room with the assistance of other surgical team members such surgical technologists, anesthesiologists, surgeons, fellows and residents. I work primarily with cardiothoracic surgical patients, who include heart valve replacements, coronary artery bypass grafting, transplants, lung cancer surgical resections, interventional pulmonology procedures bronchoscopies, airway stenting, diagnostic airway evaluations. There is a lot of variability. I can have one big case a day or several smaller shorter procedures. I enjoy the technical aspect of the operating room, the ability to care for one patient at a time and the attention to detail.
Ready to find out more about Labouré's hybrid RN-BSN program? Contact Admissions at admissions@laboure.edu