Overview
Since 1892, nearly 10,000 of our nurses and healthcare professionals have gone to work caring for patients in Boston and around the globe.
Our students are local adults who are resilient, mature, and compassionate. Many have been called to a career in healthcare through personal experience, tragedy, or adversity.
Over their careers, each of these dedicated caregivers will work with tens of thousands or patients. That's hundreds of millions of lives touched by Labouré graduates.
Every day, they live out the values of our namesake, St. Catherine Labouré, by bringing dignity, compassion, and empathy to the people entrusted to their care.
Labouré College of Healthcare is a private, non-profit 501 c(3).
Our Students
Our students come from many backgrounds but share a common goal: to give patients exceptional care.
Getting help when you're ill can be scary and stressful - but a caring face can make all the difference. We know that healthcare outcomes improve when patients have nurses who speak their language, understand their culture, and look like them. Educating healthcare providers who better reflect and serve our community is at the heart of Labouré's mission.
When students graduate, they stay to deliver care here in their own communities. Their communities gain diverse providers grounded in our tradition of care and compassion, and our students' lives are transformed - not just by a fulfilling career, but by a salary that supports their families.
1500
students are enrolled across all Labouré programs
94%
of our students are working while earning their degree or certificate
36
is the average age of our students, who are busy adults juggling work, school, and other responsibilities
65%
of our nursing students are people of color, mirroring the patient population of Greater Boston
48%
of our students are raising children while attending school
31%
of our students are single parents
Student Snapshot
Live in Massachusetts
63%
Hawaiian/ Pacific Islander
<1%
A diverse healthcare workforce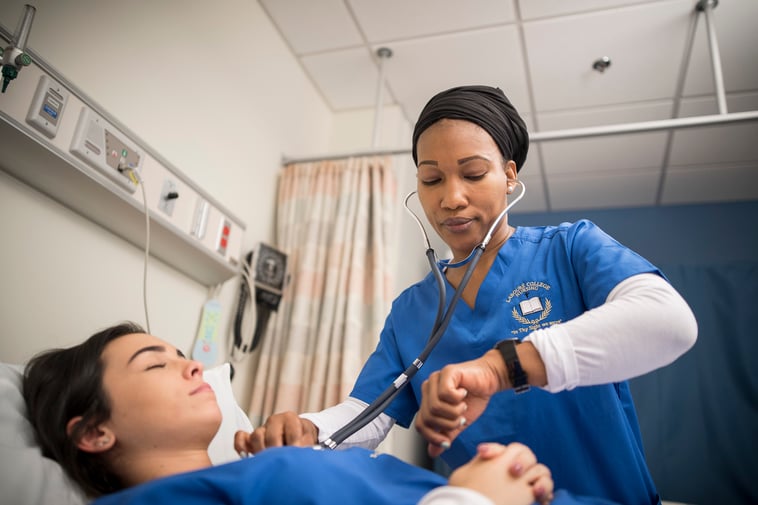 Student nurses learn to take vitals on each other in the first level of nursing clinical instruction. Practicing with your classmates is a low-stress learning experience that builds both technical skills and communication skills.
Our graduates mirror the patient population of Greater Boston. They live and work in our communities. Many speak multiple languages. They are motivated to provide for their families while caring for others.
We know that disparities in healthcare persist despite growing awareness of the problem. When a patient receives care from someone who looks like them and understands them, they develop trust - and care improves.
Representation in healthcare is one of the most significant ways in which to fight disparities and build equity. It is central to Labouré's primary mission: to build the modern workforce of diverse, highly skilled healthcare professionals that our world - and our community - desperately needs.

Suki Stiles, Class of 2013, is one of six nurses featured in a video by Reebok honoring real-life wonder women by highlighting nurses working on the front lines of the COVID-19 pandemic. The Boston-based brand's new collection - Reebok x WONDER WOMAN 84™- shines a spotlight on the healthcare professionals who have spent the last six months risking their own lives to save their patients.

My class is made up of the nicest, most interesting group of people.
At Labouré, the students are from all over the world. Some of my best friends are from Africa, Haiti, and Jamaica. Working and learning with such a diverse group of classmates has been a learning experience in itself. We all have different skill sets we can use to reach our common goal of becoming RNs. The diversity allows you to look at solutions to problems from many different angles which is crucial to critical thinking, a core concept of the program.
Leading the way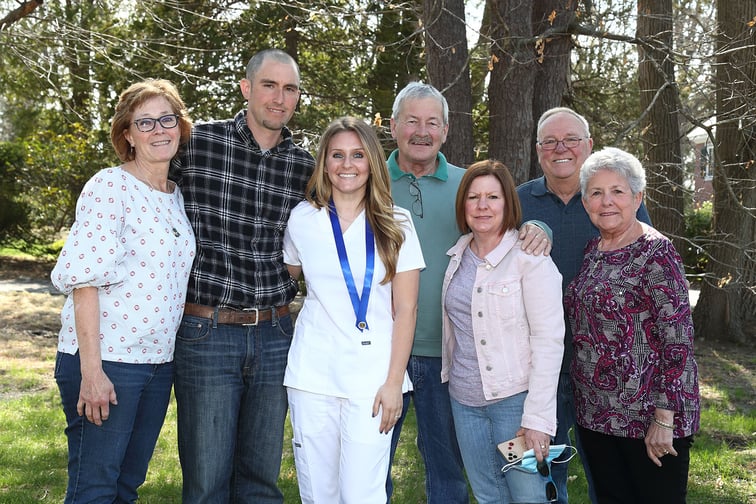 Graduates celebrated pinning with family photos on campus in spring 2021.
Healthcare is constantly evolving; so is Labouré and our academic programs.
We know that Massachusetts faces a critical shortage of nurses and healthcare professionals. Labouré is uniquely qualified to meet this need.
We are the largest educator of nurses in the Boston area, dating all the way back to 1892. At the same time, we are at the leading edge of healthcare technology, preparing students for emerging careers - some which may not even exist yet.
Our faculty are nimble and well respected in their fields, and we have a successful track record of quickly creating academic programs in response to the demands of the healthcare industry.
We continue to maintain successful partnerships with workforce development organizations, major Boston hospitals, and top-tier healthcare facilities around the US. These relationships allow us to offer clinical placements that help our students build the skills that are most in demand now, and in the decades to come.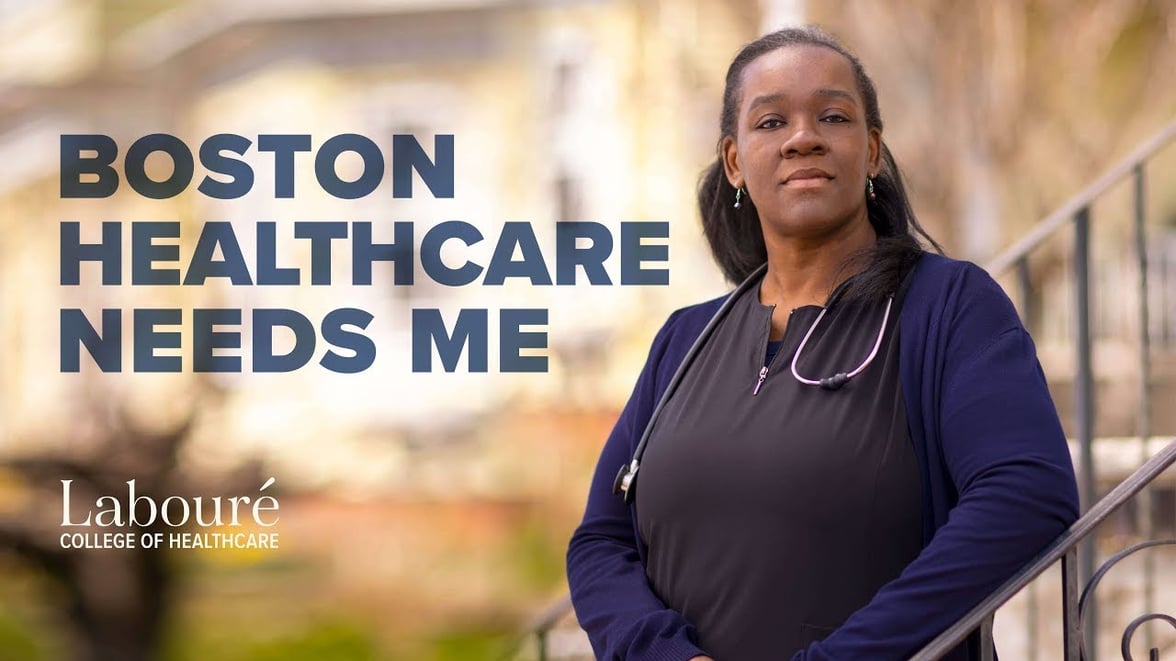 Nurse Impact: Labouré College
A brand new nurse, Marissa has worked for over a decade for Boston Children's Hospital in an administrative capacity. Her goal is to open pediatric hospice homes for children with terminal illness.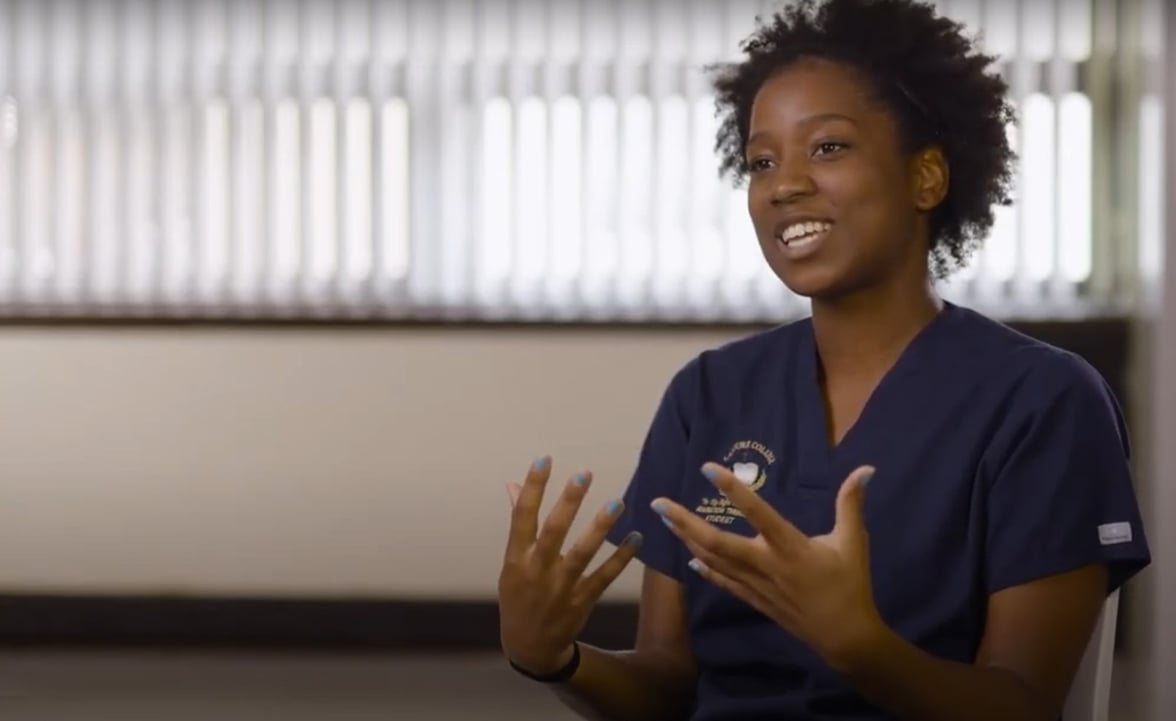 Melissa '17, Radiation Therapy Graduate
My uncle passed away from lymphoma, and that's how I got interested in the cancer field. Knowing myself, I just couldn't go to school for 13 years to become an oncologist. I have a lot of other life goals I'd like to reach. When I found Labouré, I really liked it because I really like small class sizes.
Location & Directions
The main offices of the College are located in what we call the Mansion building. This building, built in the 1800s, was once the private residence of the Wigglesworth family of Milton. Come take a tour!
The campus is situated between East Milton Square and Dorchester's Lower Mills (an approximate 3 minute drive from either direction). Free parking is available on campus.
We are located at:
Labouré College of Healthcare
303 Adams Street
Milton, MA 02186
Directions
North of Boston
Take Rt-128 S toward I-95/US-1/Boston
Merge onto I-93 S via EXIT 37A toward Boston.
Take the Squantum St. exit, EXIT 10, toward Milton
Turn slight right onto Squantum St.
Turn right onto Adams St.
303 Adams St. is on the left
South of Boston
Take 1-93 N/US-1 North
Take EXIT 9 toward Adams St./Milton/N. Quincy
Turn slight right onto Willard St.
Stay straight to go onto Granite Ave.
Keep left at the fork to continue on Granite Ave.
Turn right onto Adams St.
303 Adams St. is on the left
Public Transportation
Labouré can be reached by taking the Ashmont-Mattapan trolley line from either the Ashmont or Mattapan MBTA station. Take the trolley to Milton station and walk (approximately 15 minutes) up Adams Street to the campus.
You can use the MBTA trip planner to find the best route.
Contact Us
Call us at
Admissions: 617-315-1654
Main: 617-322-3500
Visit us
Labouré College of Healthcare 303 Adams Street Milton, MA 02186
Or drop us a line and we'll contact you