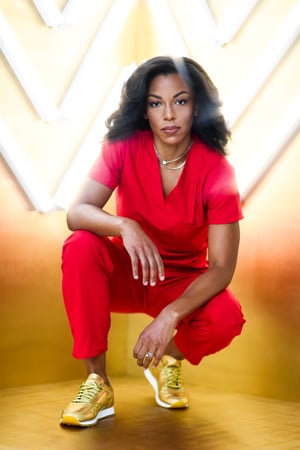 Suki Stiles, Class of 2013, is one of six nurses featured in a video by Reebok honoring real-life wonder women by highlighting nurses working on the front lines of the COVID-19 pandemic. The Boston-based brand's new collection - Reebok x WONDER WOMAN 84™- shines a spotlight on the healthcare professionals who have spent the last six months risking their own lives to save their patients.
"It feels kind of weird," says Stiles in the video. "I left work one day and there were people clapping, which is really strange."
Reebok's Vice President of Global Marketing Caroline Machen explains, "These nurses are on the frontlines fighting the first global pandemic of the century day in and day out by risking their lives to save others. While they might not see themselves as real-life wonder women, we do."
From everyone at Labouré, we couldn't agree more. Congratulations to Suki and thank you to all of the nurses and healthcare heroes who keep us safe!
The Reebok x WONDER WOMAN 84™ collection celebrating the upcoming film Wonder Woman 1984 is available online starting September 17. You can view the video and browse the collection here.
Photo: Reebok via Boston.com