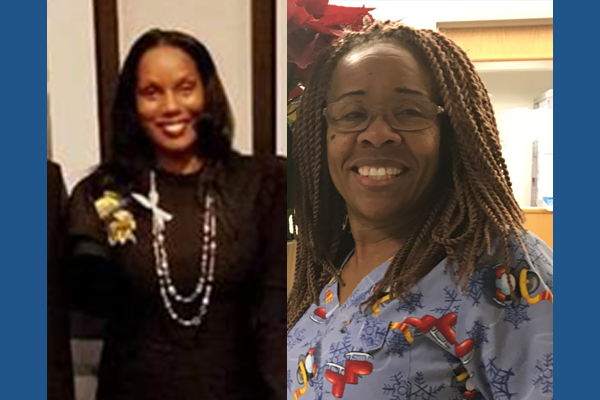 Claudine Bruff-Lopes, RN, CM (left) Marie Bonhomme, RN, BSN, HCM (right)
The New England Regional Black Nurses Association (NERBNA) has recognized two members of the Labouré College community for their dedication and work in nursing. NERBNA created the Excellence in Nursing Awards to "to publically recognize Black nurses who consistently excel in their profession and specialty areas," (source).
Marie Bonhomme, RN, BSN, HCM, a lecturer in nursing at the Labouré College and Claudine Bruff-Lopes, RN, CM, student in Labouré's RN-BSN program both received the Excellence in Nursing Practice Award from NERBA on February 10, 2017 in Boston, MA. In addition to teaching at Labouré, Ms. Bonhomme is a nurse at Boston Medical Center.
Ms. Bruff-Lopes works at Blue Cross Blue Shield as a nurse case manager, assisting members with certain complex and/or chronic health issues by coordinating complicated treatment plans and other types of complex patient care plans. Ms. Bruff-Lopes is also a proud member of the New England Regional Black Nursing association and the Vice President of the New England Black Nurses Rock chapter. When asked about the honor, she said, "This is for all the instructors that believed in me, pushed me and encouraged me to be better. All my classmates through the years that supported me. And of course all the future nurses, because if I can do it, so can they. It truly is an honor to say that I am a graduate of Labouré College."
Please join us in congratulating these two accomplished women!
About NERBNA:
The New England Regional Black Nurses Association, Inc. is a chapter of the National Black Nurses Association, Inc. and is part of a national effort to unify, educate and recruit and retain African American nurses into the profession. NERBNA was founded in 1972 and incorporated in 1973 in Boston, Massachusetts. NERBNA has been active in the community for 44 years offering health screenings, flu vaccinations, mentorship, scholarships, and educational conferences and networking opportunities to nurses and nursing students in the New England area. (source)