Following an extensive nationwide search, the Board of Directors of Labouré College is pleased to announce Jack P. Calareso, Ph.D. as the College's sixth president, effective January 8, 2018.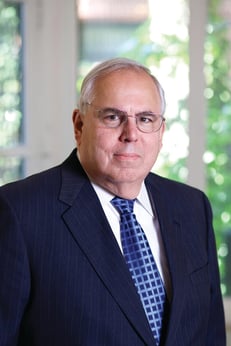 An accomplished leader in higher education, Dr. Calareso believes that transparency and collaboration are imperative to the continued success of Labouré. Further, he values the College's Catholic mission and legacy saying, "While so much may seem to be changing in the future as we develop new programs and services, we will very much be the same institution we have always been. We will still be graduating women and men of character and promise. We will be seeking ways to improve the curriculum, programs and services. But our greatest resource remains the dedicated faculty and the talented staff who serve our students every day."
Of primary importance to Dr. Calareso is that Labouré never lose sight of what is most important – the students. "Simply said, Labouré is a student-centered college. Students always come first. Helping each and every student reach her or his goal is our primary motivation. It is my intent to make sure that each one of them is educated, either online or in the classroom, by the very best faculty. Every graduate will be prepared for success in a profession, a career or continued study, and a life characterized by integrity, intellectual and spiritual values, social responsibility, and service."
His most recent experience as the first lay president of St. Joseph's College in New York follows a career that has spanned everything from teaching and administrative roles in both K-12 and higher education, and serving as president at several institutions, including Anna Maria College in Massachusetts, Ohio Dominican University in Ohio, and Briar Cliff University in Iowa.
Dr. Calareso has earned a Bachelor of Arts degree in English and Theology from Boston College, a Master of Arts degree in Theology and Scripture from St. Bernard's School of Theology, and a Doctoral degree in Educational Leadership and Administration from Marquette University.
Laura Downing, chair of the Labouré College Board of Directors, announced Dr. Calareso's appointment to the community saying: "Dr. Calareso's strong leadership, expertise, and warm demeanor make him a perfect fit for Labouré."
Dr. Calareso succeeds Maureen Smith, who served as president for nearly six years.
Dr. Calareso is also a prolific writer and presenter. He currently lives in Reading with his wife, Rose. Both he and Rose are eager to get to know the Labouré community, and help them celebrate the 125-year anniversary event on May 17.