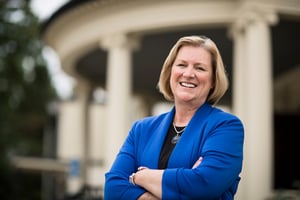 Following a nationwide search, the Board of Directors of Labouré College is pleased to announce Debra M. Townsley, Ph.D., as the College's seventh president.
Dr. Townsley is a seasoned administrator, leader, and educator having served as president at William Peace University in Raleigh, NC, and Nichols College in Dudley, MA. Described by her peers as a collaborator and mentor, Dr. Townsley brings her experience in both business and higher education to Labouré College.
Beginning her education with an associate degree from a community college and building upon that foundation throughout her career, Dr. Townsley uniquely appreciates the grit of Labouré's student population. "I know first-hand the importance of education to the adult learner. These students are working and taking care of families. The determination and sacrifice required of these students makes earning that degree even more meaningful."
Damien DeVasto, Chair of the Labouré College Board of Directors, happily announced Dr. Townsley's appointment to the community. "As Labouré College celebrates over 125 years of educating exceptional nurses and healthcare professionals, we are excited as a community to have Dr. Debra Townsley aboard as our new President. Debra's vision and remarkable experience in higher education will help guide Labouré to the next chapter of innovative and compassionate healthcare education, both online and here in the Boston area."
Most recently, Dr. Townsley served as the interim president at Wheeling Jesuit University in Wheeling, WV. Msgr. Kevin Quirk, Chair of the WJU Board of Trustees, said in a press release, "We gave President Townsley a significant list of objectives to achieve in little over a year, and she fulfilled each one of them while preserving the student experience on campus and keeping an eye focused on academic quality."
Dr. Townsley holds an MBA in Marketing and Management from George Washington University, and an M.A. in Psychology and a Ph.D. in Industrial/Organizational Psychology from the University of Vermont.
Dr. Townsley succeeds Jack P. Calareso, Ph.D., who concluded his presidency unexpectedly due to health issues in the spring of 2018. Dr. Calareso is expected to make a full recovery.
About Labouré College: Established in 1892 by the Daughters of Charity, Labouré is the longest provider of nurses in the Boston area. Labouré is an independent, private, non-profit college, specializing in nursing and healthcare career education both on-campus and online. The College is located at 303 Adams Street in Milton, Massachusetts.
Media inquiries: Please Contact Katelyn Dwyer, Marketing Department, katelyn_dwyer@laboure.edu or (617) 322-3524.