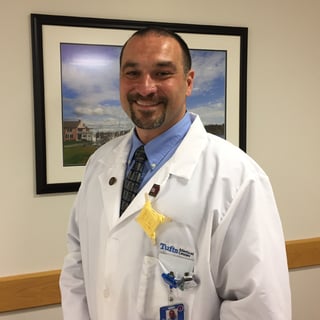 Sean O'Leary is a Labouré alum who has devoted his life to caring for others. As the Chief Therapist and Operations Manager of Radiation Therapy at Tufts Medical Center, Sean serves as a powerful example to the students he works with. Sean was nominated for the Massachusetts Care Award by colleague Pauline Clancy, Chairperson of the Radiation Therapy program at Labouré. In her nomination, Pauline said that, "Sean has never lost the meaning and inspiration for why we do our jobs. He treats patients seeking treatment for their cancer with compassion. They are the reason he chose this profession. His patients display an ease and comfort when with him."
Join us on June 8 for a night of great wine, food, laughs, and tears, as we honor Sean and all radiation therapists, nurses, healthcare workers, and medical first responders of Massachusetts. Buy your tickets today!
As a radiation therapy clinical supervisor, Sean teaches students not only the details and intricacies of radiation treatments, but also how to treat patients with respect. One patient, a thirteen year old girl named Ashlynn continues to visit Sean every chance she gets. Sean treated Ashlynn when she was just two years old and fighting cancer. It was his calm demeanor, patience, and care - that eventually helped the toddler lay still, under a mask bolted to a table, long enough to receive radiation treatments without sedation. This situation would be terrifying for most children. Sean helped Ashlynn, and her parents, feel safe and calm.

Today, Sean and Ashlynn light up when greeting each other with a huge hug- it's clear that they have a lifelong bond. He offers this kind of attention and kindness to every patient he treats. His dedication to radiation oncology and commitment to offering patient-centered care to all make him a worthy recipient of this year's Massachusetts Care Award.
Sean will be honored this year along with three other incredible winners: Donna Morrissey of the American Red Cross; Trooper Chris Dumont, Massachusetts State Police; and Catherine O'Connor, founder of the Health in Motion van and clinical instructor at Northeastern University. It is our privilege to shine a light on each of these compassionate caregivers. Buy your tickets today!
At Labouré College, educating students in healthcare extends beyond theory and clinical practice. It is our hope for all Labouré students that they not only learn the skills necessary to care for others, but that they do so with compassion. Each of our winners this year serves as an incredible example to the future nurses and healthcare workers of Massachusetts and we are thrilled to honor each of them at the 3rd annual Massachusetts Care Awards.
About Labouré College: Celebrating 125 years in healthcare education, Labouré is the longest provider of nurses in the Boston area. Labouré College is an independent, private, non-profit, Catholic college, specializing in nursing and healthcare career education. The College is located at 303 Adams Street in Milton. http://www.laboure.edu