This week is Neurodiagnostic Week! Sponsored by ASET- The Neurodiagnostic Society, this week is about "neurodiagnostic professionals [who] work to ensure the health of all Americans, not only in their day to day practice but through advocacy, education, and research." (http://aset.org)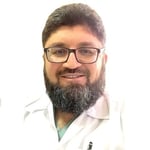 Today, Labouré College would like to highlight Faisal R. Jahangiri, MD, CNIM, DABNM, FASNM, and one of our esteemed IONM faculty members. Dr. Jahangiri was the primary author of Motor Evoked Potential Recordings from the Urethral Sphincter Muscles (USMEPs) during Spine Surgeries, published in The Neurodiagnostic Journal, Volume 59, 2019, Issue 1.
Neurodiagnostics is a fascinating field with lots of specialities. At Labouré, our NDT program primarily focuses on EEGs and can be completed in just 12 months; our IONM program takes you to the next level - the OR - and can be completed in 8 months. Each program runs online, with clinical hours set up in your area!
Interested in learning more? Send us a message!