With COVID-19 an ever-present risk, nursing leadership at Labouré College has risen to the challenge of creating new and effective instruction methods and a safe learning environment.
Creating a Pandemic Plan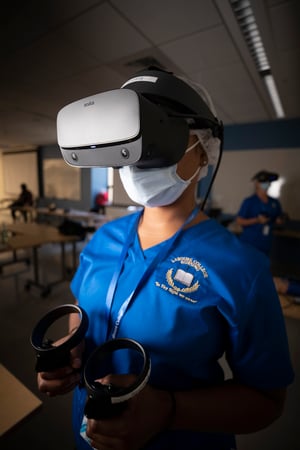 Labouré College's Dean of Nursing, Karen Manning, MSN, RN, started planning early. "In February, I started working on the 'COVID Plan.' By March, I was thinking about how to continue clinical for Spring. Then we needed to determine how we were going to keep the Summer semester while delivering the same level of skill training and knowledge we typically provide. That's how virtual reality came about."
By April, Manning had identified UbiSim, a virtual reality training program for nursing, to supplement the students' high-fidelity simulation lab experience on campus.
"I had to come up with something that would continue to use the students' clinical thinking skills, did not require an intensive amount of cleaning between uses, and would maintain all social distancing and infection control guidelines. There are a lot of video tools available for students, but I wanted something that would feel like walking into a patient's room – something that would require communication, interactions, and skills."
Nursing in Virtual Reality
Labouré acquired 15 sets of equipment – headsets, controllers, and laptops - and faculty set to work crafting virtual patient scenarios that aligned with what students were learning in class.
Students use UbiSim in groups of three. One student is fully immersed in the scenario, viewing the patient and hospital room through the headset; that student can move around the room, and can perform tasks using two hand controllers. The other two students view the scenario through a laptop in real time. One helps control pieces of the scenario, while the other completes any documentation as requested by the student in the scenario, then they rotate. "They see the same scenario three times, in three roles, which helps reinforce the care of that situation," said Manning. Clinical faculty observe, offer insight, ask questions, and quiz the students.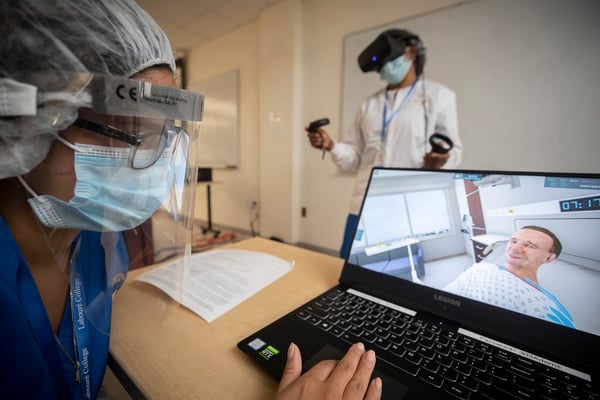 A typical course using UbiSim is organized as follows:
First, faculty give students report on the patient, students do research on the diagnoses, meds, and any other information given for the scenario. Faculty then hold a pre-conference just as they would in a healthcare facility before students are immersed in their scenario. When the scenario is complete, faculty conduct a post-conference, and students complete their documentation.
"With every scenario, they have to provide nursing care, they have to communicate with the patient, and they have to call the healthcare provider and communicate with a technique that we call SBAR – Situation-Background-Assessment-Recommendation. They communicate in this particular format so that when they are in the healthcare organization later, they will have practiced these skills," said Manning. This summer, faculty delivered 1,300 virtual reality sessions to 184 students over just seven weeks.
New Ways of Teaching
For the Summer semester, Manning rearranged the curriculum of each nursing course, featuring remote learning through live lectures for the first seven weeks and then bringing students to campus for a blend of skills lab, virtual reality, and high-fidelity simulation. During Fall and the upcoming Spring, UbiSim, high-fidelity simulation, skills labs, and clinical is woven throughout the entire semester.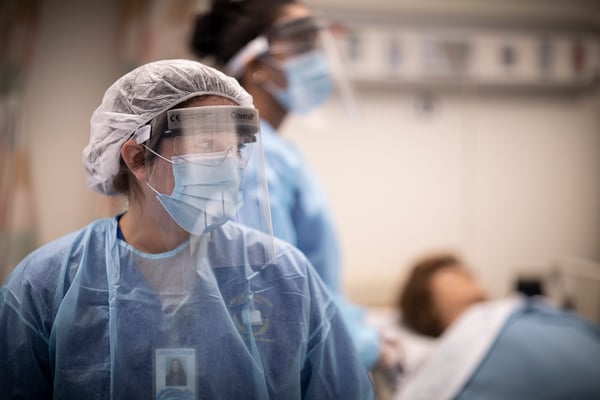 UbiSim has been key in continuing the first nursing course, Fundamental Health Concepts. In this course, students typically begin their clinical experience in long-term care facilities, but with COVID-19's devastating impact on long-term care, those facilities are not currently available to students. UbiSim has helped fill this gap, while the fine motor skills taught in Fundamentals – like taking vital signs – continue to be taught in small groups in the skills lab.
Looking Ahead
The biggest hurdle, says Manning, is consistency. While in-person learning and live patients are preferable, positive COVID numbers can impact the best laid plans. "Students wish that on day one, they would have a map of everything they need to do for the entire semester. I wish that, too. But with COVID, we keep getting thrown curve balls, and things have to be adjusted."While it has been a very different experience for nursing students, it is certainly one they will not forget. "I think in some ways, this will make them stronger," said Manning. "Some of that flexibility and determination is going to come out in practice, and they'll overcome all of this.""We're evaluating and re-evaluating every step of the way," said Manning. "We have come up with so many different instructional methods to enhance clinical thinking and we will keep all of them post-COVID, somehow merging it all together. We're going to grow as a result of this."
---------
What is UbiSim Like?
"When you put the headset on, you don't see the other students; you feel like you're in the room with your patient. You have the bed, the med cart. The controllers allow you to manipulate objects in the room with your hands.



You can feel the pulse through vibrations in the hand controllers. You hear lung sounds, bowel sounds, and heart sounds through the headset. You can touch the legs for edema. It's like you're really there."


Karen Manning, MSN, RN, Dean of Nursing
---------
Clinical Experience During COVID-19
Nothing takes the place of live patient interaction and clinical learning. Students have been attending clinical on-site with Labouré's clinical partners at:
BI Deaconess Milton

BI Deaconess Plymouth

Boston Medical Center

Carney Hospital

Holy Family Hospital

New England Sinai Hospital

South Shore Hospital

Morton Hospital

St. Elizabeth's Medical Center

Sturdy Memorial Hospital

Tufts Medical Center
*Students do not work with or near patients who are COVID-positive or suspected
Interested in becoming a nurse? Learn more about Labouré's nursing program here.