Given the increasing demand for medical and healthcare professionals in the United States, there has never been a better time to consider a career in nursing.
A nursing career is equally challenging and rewarding. Once you have decided this is the career for you, you have several options. In this article we explore three credentials to begin working as a nurse. They are the CNA, the LPN, and the RN.
Some nurses begin by earning their RN degree. Some choose to become a CNA to get working quickly and confirm they made the right career choice before investing in a degree program. Others earn all three, climbing the ladder at a pace that fits their lifestyle. Each credential is explained below, including education required, job responsibilities, career outlook, and salary.
Each nurse chooses the career path that is right for them!
Certified Nursing Assistant (CNA)
A certified nursing assistant, or CNA, is an entry-level healthcare professional that provides direct patient care. Entry-level certifications are the perfect gateway to a new career by offering job opportunities with shorter training periods, meaning newcomers to the healthcare field are able to earn a salary while gaining the experience that will help take them to the next level.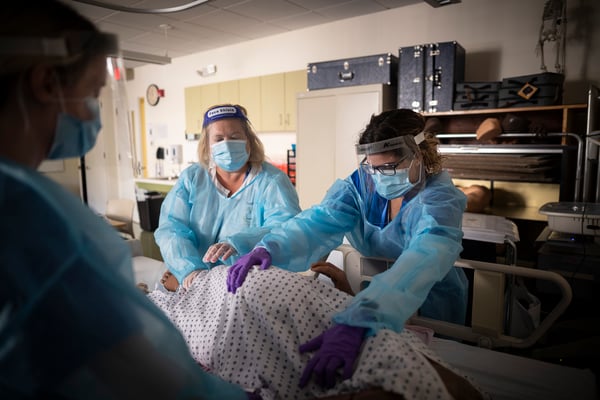 Responsibilities
CNAs are a critical member of the patient care team and have a significant amount of contact with the patient. They are indispensable. Main responsibilities for a CNA include:
Preparing medical equipment and materials for patient care
Grooming, washing, and providing personal care to patients
Taking blood and measuring vitals; reporting patient care and wellbeing to family members and medical staff
Prioritizing patient exercise, nutrition, and wellbeing
CNAs play a key role in maintaining not only patient health and safety, but also their comfort and dignity. If you're looking to assist the elderly or work in palliative or care home settings, becoming a CNA is an especially rewarding career option.
Education and Certification
Depending on the program you choose, you could become a CNA in 4 to 5 weeks of training. There are many affordable CNA programs across the United States, with entry points throughout the year. CNAs are in such demand, it is possible to find hospitals or healthcare facilities willing to pay for this training.
Becoming a CNA, allows you to start caring for patients quickly and with a small financial investment (CNA programs are far less expensive than a nursing degree program). This will let you experience the career and decide if it is right for you. Then if you choose, you can expand your career options by building on your existing skills and experience with additional education.
As one of the top US professions for future growth, there are opportunities to move between settings or gain some seniority as a CNA, but going back to school for an LPN or RN program will help you continue to grow in your career and provide a family-sustaining income.
Job Outlook and Salary
CNAs play a vital role in the US healthcare industry. In fact, the nation needs CNAs right now, with industry experts predicting that the demand for certified nursing assistants will rise 9% by 2028.
The national average salary for a qualified CNA is $28,540 per year or around $13.72 per hour. CNA salaries vary depending on where you live in the US (Alaska and New York are two of the highest-paid states for CNAs) as well as your level of experience—and if you want to progress your nursing career, earning higher qualifications is necessary. The average salary for a CNA in the Boston metropolitan area is $36,240.
Licensed Practical Nurse
After the CNA, the next level is the Licensed Practical Nurse, or LPN. LPNs are in demand across many settings, including hospitals, hospices, and colleges. Becoming a licensed practical nurse will offer you long-term job security.
Fun fact: LPNs are called Licensed Vocational Nurses or LVNs in California and Texas, but both titles include the same training and job responsibilities.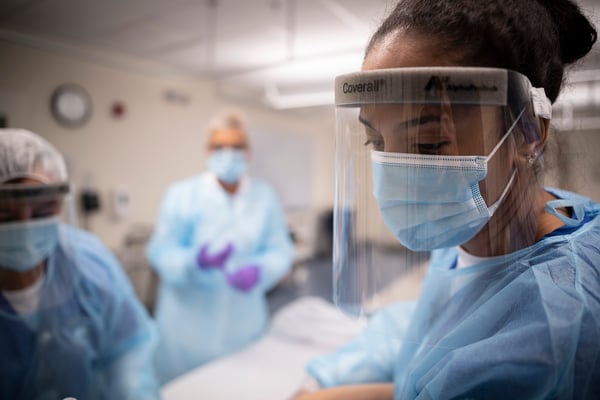 Responsibilities
LPNs perform some of the duties of a CNA, but also perform more delicate and advanced patient care procedures. LPN responsibilities include:
Basic medical and patient care including recording patient histories and checking for and recording vital signs
Inserting patient catheters and changing bedpans and bandages
Prioritizing patient comfort and assisting with the Activities of Daily Living (ADL)
Talking through treatment and healthcare plans with patients and their families
Reporting patient information to RNs, doctors, and senior medical consultants, and assisting with some tests or procedures
Some administrative work depending on the healthcare facility
Education
LPN education programs take about 1 to 1.5 years to complete on average. Upon completion, graduates sit for the NCLEX-PN licensure exam.
If you're an LPN looking to advance your career and take on a more challenging as well as lucrative role, earning an RN qualification is an excellent route.
Job Outlook and Salary
Demand for LPNs is expected to increase 9% by 2029. LPNs are able to work in a variety of healthcare environments, but as chronic condition management and other procedures move away from the hospitals, the demand for LPNs is seeing a rise especially in residential care facilities and home health.
The national average salary for a qualified LPN is $45,710 per year or $21.98 per hour. In the Boston metropolitan area, the average annual wage for an LPN is $62,620. LPN salaries vary slightly according to the sector (hospitals, government, education, etc.) and as you build experience, you can earn more as an LPN.
Registered nurse (RN)
A registered nurse, or RN, is a nurse with the skills and training required to administer advanced treatments, provide a high level of all-around patient care, and offer medical education to patients or their families.
There are around 3.8 million active RNs in the US, with an average of 200,000 new roles created nationwide every year.
Training to become a registered nurse will give you the skills to apply for a wide range of nursing roles across many sectors. An RN qualification also offers great potential for career progression, especially when nurses are needed in so many specialized areas of healthcare.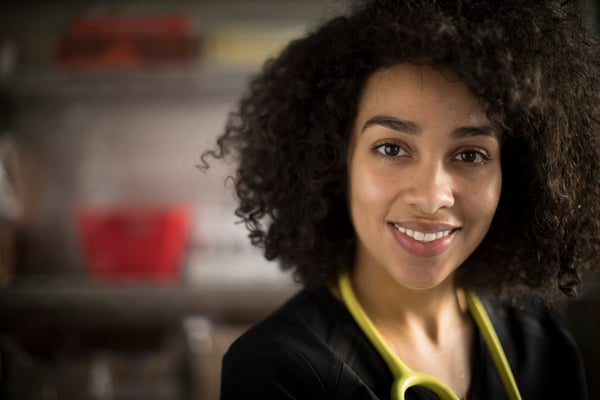 Responsibilities
Registered nurses are required to juggle many tasks during any given workday. To give you an idea of what is expected of you as an RN, here is a rundown of the main duties and responsibilities:
Recording and assessing patient medical information including vital signs, symptoms, medical history and more
Administering medications and treatments to patients
Collaborating on patient care plans with physician assistants and medical doctors
Carrying out diagnostic tests and analyzing the results
Managing or mentoring other nursing staff, including Licensed Practical Nurses (LPNs), nursing aides, and home health assistants
Helping patients, families, and caregivers create plans for long term healthcare
Working with senior consultants and medical staff to decide on the best course of treatment for patients based on their current level of health and medical history
Career path
Once you've earned an RN qualification, you can focus or advance your nursing career by choosing a specialization. There are many areas of specialization in nursing to explore. Some of these include:
Psychiatric Nurse
Ambulatory Care Nurse
Geriatric Nurse
Hospice Nurse
Pulmonary Care Nurse
Infection Control Nurse
Neonatal Intensive Care Nurse
Emergency or Critical Care Nurse
HIV or AIDS nurse
You can also build on your existing credentials by continuing your education. RNs who chose an associate degree in nursing (ADN) program may choose to earn their Bachelor of Science in Nursing (BSN).
By earning a BSN, you will expand your skill set which in turn will open up a wider range of career options and empower you to increase your income. BSNs can earn up to $111, 220 annually)
For RNs who chose a bachelor's degree program, options to continue your education include a Master of Science in Nursing (MSN) program, Doctor of Nursing Practice (DNP) program, or a variety of specialized certifications.
Salary
The average salary for a qualified RN is $73, 550 per year or $35.36 per hour (RNs can earn up to $85,650 in Nevada and $85,610 in New York). As you gain experience, you can earn more as an RN—and due to rising demand, the career prospects for registered nurses are excellent.
Final thoughts
"Life takes on meaning when you become motivated, set goals and charge after them in an unstoppable manner." —Les Brown
As you can see from our RN vs LPN vs CNA comparison, there is an enormous level of scope when it comes to carving out a long and rewarding career in nursing.
There are many different types of nursing employers looking to hire the right talent and the demand for nurses continues to grow in the US. Whether you decide to become a CNA, LPN, or RN, you will have plenty of choices in terms of career prospects.
If you have the passion and you're willing to put in the work, you will thrive as a qualified nurse, with plenty of room to grow.
At Labouré College, we can help you get started - or take the next step - in your nursing career.
Our nursing program offers two degree choices: an Associate of Science in Nursing (ASN) program to earn your RN licensure, and an RN-to BSN program for RNs looking to advance their career even further by earning a Bachelor of Science in Nursing For LPNs looking to take the next step, our LPN-to-RN program is an accelerated track in the ASN to get you to your RN license faster.
Graduates of our ASN program can sit for the NCLEX-RN exam to earn their license as a Registered Nurse. This type of program empowers students to enter the nursing profession in approximately two years -- that's two years earlier than they would as part of a traditional four-year program.
If you're looking to take that big first step in becoming a nurse or you want to take your existing skills or experience to the next level, you should explore our two nursing degree programs in more detail—and if you have any questions, please contact us. We can help make your nursing dreams a reality.