Labouré College celebrated its 6th annual Bread and Soup Luncheon on Wednesday April 10th. The luncheon affords students, faculty, and staff the opportunity to connect during the Lenten season each year, and to learn about several local charities.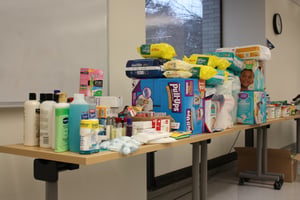 Over the last several weeks, the College collected donations of household items, clothing, toiletries, gift cards, and more that were given to support the charities in attendance.
Volunteers Michael and Mary Ann Fitzgerald from St. Francis House spoke about their facility - the largest day shelter in Massachusetts - and the services St. Francis House offers, including not only the day shelter services of food, shelter, and clothing needs, but also workforce development, and affordable housing support.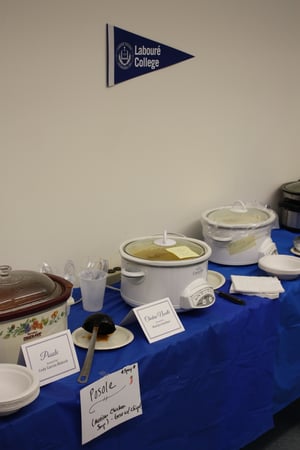 Mary Ann Mendes, Volunteer Services Coordinator at Father Bill's & MainSpring, talked about their facilities in Quincy and Brockton and the work that their volunteers do in providing support for dining service, guest intake and guest check-out, as well as opportunities to help off-site by facilitating meal prep or making bagged lunches for drop-off. Labouré College's recent Day of Service in March saw members of the Labouré College community prepare bagged lunches that were dropped off at both Father Bill's Place in Quincy and MainSpring House in Brockton.
St. Mary's Center for Women & Children President and CEO Deidre Houtmeyers, RN, spoke about their five residential programs, as well as their education, employment, and prevention programs. These family-centered programs help young women - many of whom are mothers - "break the intergenerational cycle of poverty and achieve lasting, powerful change by building their emotional well-being, educational achievements and economic independence."
The Women's Table, a ministry of the Sisters of St. Joseph of Boston, was represented by director Mary Rita Weschler who discussed the variety of programs and workshops put on by the organization that promote education, social support, spiritual development, and more.
Dan Maloney, Volunteer and Employee Engagement Manager at Boston Health Care for the Homeless Program gave an overview of their mission, which is to provide or ensure access to the highest level of healthcare for all homeless individuals or families in the greater Boston area. At Boston Health Care for the Homeless Program, their top four volunteer needs are in patient navigation, case management assistance, food services, and patient activities.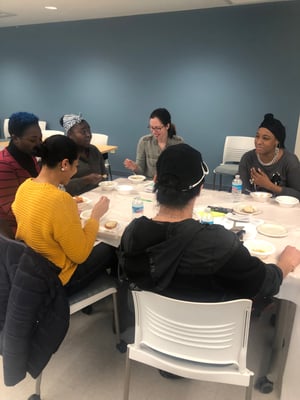 Bethany Hill Place, which provides safe, affordable housing and learning opportunities for those who have experienced homelessness, addiction, violence or loss, was represented by Labouré College Chairperson of General Education, Joseph Cullen, as their Assistant Program Director Abbe Cullen was unable to attend the luncheon.
"The real effect of our 6th Annual Bread & Soup Charitable Luncheon will be in the lives of those we'll never know. Over several weeks, the College collected a large quantity of items responding the material needs of infants & homeless people," said Leo Thibault, Academic Advisor at Labouré College, and coordinator of the luncheon. "The comments and materials provided by representatives from our charities during the luncheon inspired both those in attendance, and those who could not attend."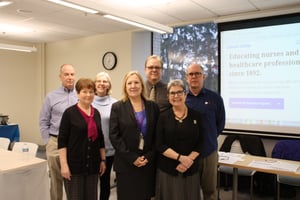 Read more about our wonderful charitable partners and their volunteer opportunities in their links throughout this post, or - if you are on campus - by picking up their literature adjacent to the Student Success Center.
Thank you to our faculty and staff for all the amazing soups, chilis, breads & butters. We are especially grateful to Greenhills Irish Bakery in Dorchester, Lambert's Rainbow Fruit Market in Dorchester, Milton Fruit Center Market in Milton, and Montilio's Bakery in Quincy for their contributions as well.
We will be posting additional photos on our Facebook page at facebook.com/LaboureCollege.