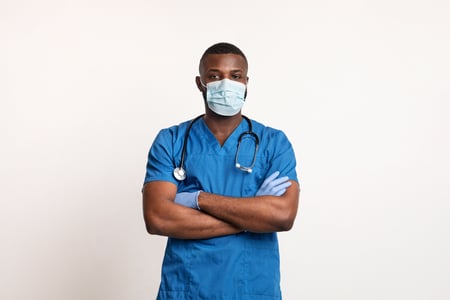 Students in Stage 1: Highly Restricted Access
Updated 8/19/20 for Fall 2020:
During Stage 1 in the Fall 2020 semester, Labouré will allow the education of students in all programs on campus in labs, though theory and lab content that can be done remotely will continue to be done remotely. The library will be open with limited seating capacity, and some academic support services will be available on campus. Please review the information in the Activities, Access, and Procedures section below for details.
Students who will be participating in on-campus classes, clinical, or lab work will be contacted by their instructors.
All other students will continue their coursework remotely during Stage 1, but may come to campus for the aforementioned approved scheduled academic support services.
Time on campus will follow strict infectious disease protocols that include temperature check, COVID-19 symptoms screening, physical distancing, and the use of personal protective equipment (PPE).
All students must review the training video and Student Acknowledgement Form accessible in the Student Reopening Info tab on my.laboure.edu before returning to campus.
You must log in to my.laboure.edu to access this video and form. You can also view a detailed description of the plan and Stage 1 instructions on my.laboure.edu.
When you are scheduled to return to campus, you will receive notification from the College to review the training video for your stage.
It is important to note that our knowledge and understanding of the COVID-19 virus will continue to evolve, and the College's policies and plans will be updated as appropriate as more information becomes available.
We will update this page at the introduction of each new stage.