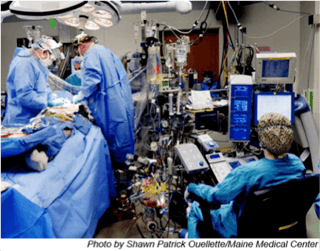 The field of intraoperative neuroscience has advanced rapidly over the last 30 years. Today, while a patient is under anesthesia and the doctor is performing surgery, the intraoperative neuromonitorist is monitoring the patient to ensure their safety. Where surgeons were once left with only the "wake up test" to discover whether or not their patients were paralyzed after brain or spinal surgery, now operating rooms around the country are equipped with someone whose sole purpose is to protect the patient's eloquent cortex and spine function from harm - the neuromonitorist. A respected member of the operating team, the neuromonitorist is a patient's guardian angel in the operating room.
Learn about Labouré's innovative, one-year, online program in IONM - one of the first college-level IONM programs in the country.
History
Though physiologic monitoring of patients during surgery did not take hold as common practice until the 1950s, scientists have long been examining the brain and attempting to understand the delicate orchestra of our central nervous system. Our eloquent cortex is essential for life- we cannot live with out it. It is where speech, fine motor function, and gross motor function reside. If it is harmed, lasting damage and even paralysis can occur.
With so little information available to surgeons during procedures, the risk to the patient was great and many perilous, though potentially life-saving techniques could not be used. As technology has advanced, new methods of patient monitoring have been introduced. From heart rates to oxygen levels, operating room teams are able to watch a patient's vital signs during the procedure to avoid potentially life-threatening damage (source).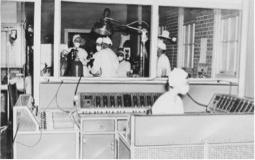 Model III, Four 8 Channel Instruments, 32 Channels of Simultaneous Recording
Photo Courtesy of Grass Technologies, Inc.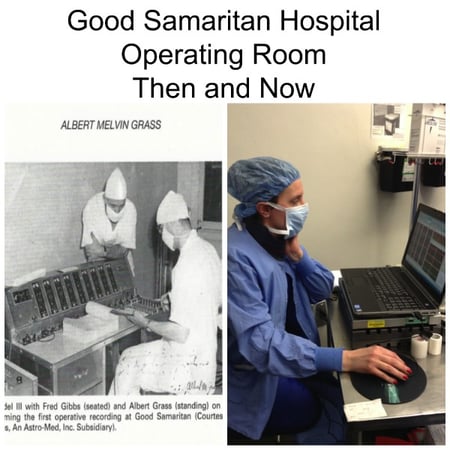 The real advancement in the field of IONM began in the 1980s once the equipment was refined to filter out background noise and find averages in amplitude changes. Now, armed with a constant flow of data from EEG, EMG, SSEP, BAEP, and more, neuromonitorists are able to give surgeons information in real time about the patient's neurologic information. This allows the surgeons to alter their technique or approach during the surgery, which can restore lost function or avoid harm. Additionally, the technology used by neuromonitorists has gotten more sophisticated, which allows them to monitor more functions at once.
"When I started in IONM in the 1980s, each piece of equipment was huge. Some took up the entire wall inside an operating room. Each giant piece of equipment measured only one modality and during surgery, strobe lights would flash and alarms would sound to alert the team as to what was happening. Now, our equipment is essentially the size of a laptop and it's able to measure all modalities continuously to make sure no harm is being done," said Margaret Barlow, R EEG T, CNIM, IONM Program Director and Assistant Chair Neurodiagnostic Department.
What is Intraoperative Neuromonitoring?
Intraoperative neuromonitoring (IONM) is the "use of neurophysiological recordings for detecting changes caused by surgically induced insults," and the ability to, "assess the function of specific parts of the nervous system continuously during an operation," (source). Since it's conception, IONM has been shown to, "reduce the risk of postoperative neurological deficit [and] identify specific neuronal structures and landmarks that cannot be easily recognized," as well as aid in, "research purposes in basic science, pathophysiology and therapeutic management," (source).
During surgical procedures, Neuromonitorists can measure the following modalities EEG, SSEP, BAEP, MEP, EMG, SEMG/TEMG, cranial nerve, and peripheral nerve (PN) monitoring techniques (source).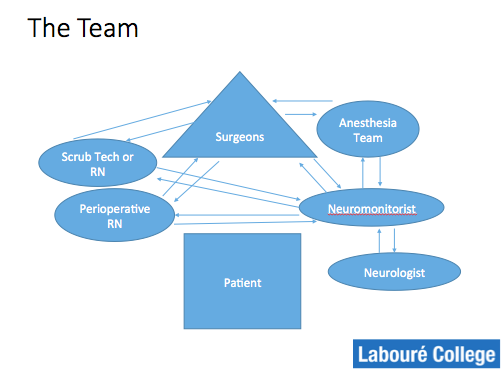 Intraoperative neuromonitorists work exclusively in the operating room during a variety of procedures ranging from carotid endarterectomy to brain and spinal tumor resection to aneurysm clipping in the brain or thoracic abdomen.
The work of a neuromonitorist generally starts early. Because many procedures and surgeries can last for many hours without a break, it's important to have a hearty breakfast and get organized. Prior to surgery, the neuromonitorist will place electrodes on the patient on various locations depending on the type of surgery taking place and the tests that are needed.
Once you enter the operating room, the neuromonitorist begins the set up. All equipment is checked to ensure it is working properly. Before the surgery begins, a baseline of activity is recorded. Then, during surgery, data is constantly given to the surgeons. If any negative changes result during the surgery, they are immediately reported to the surgeon so that they may determine if a new technique or course is required. As the surgery goes on, the neuromonitorist may spend a lot of time creative troubleshooting. If a wire gets disconnected or you lose a signal during surgery, you will have to reconfigure your set up while the surgery is taking place. The OR is a challenging environment to work in because there are so many competing electrical impulses and signals going on in the room. The neuromonistorist uses various skills of draping tables to mitigate the interference. Throughout the entire surgery, the goal of the neuromonitorist is to monitor and report any neurologic information that may improve the patient's outcome (source).
Who is right for IONM?
Intraoperative neuromonitoring is a great fit for a unique kind of student. Utilizing both direct patient care and extraordinary critical thinking skills, students in IONM not only have to be experts in Neuroanatomy and neurodiagnostic technology, they must also possess exemplary communication skills. As an intraoperative neuromonitorist, you need to feel comfortable talking with patients about the procedure and also working with a diverse team in the operating room. Advocating for the patient during surgery is just as crucial as interpreting the delicate world of the brain and central nervous system. Students who have been successful in IONM come from all kinds of backgrounds- neuroscience, sports, even geology. There is no "perfect" profile for an IONM student- just a million different ways to be a dedicated, self-starting, independent, team player with exceptional clinical skills.
Learn about Labouré's innovative, one-year, online program in IONM - one of the first college-level IONM programs in the country.
What's next for IONM?
With few opportunities for education in IONM, there is a push by hospitals, surgeons, and professional organizations to further standardize its practice and teaching. The demand for competent and certified neuromonitorists is huge and right now there are very few of them out there. Even more pressing is the need for high-quality, accredited programs to educate the next wave of IONM graduates. Labouré College is excited to be at the forefront of IONM education, with faculty and clinical instructors who are experts in the field with years of experience and research behind them. The IONM program at Labouré College has a site visit scheduled in March 23-24 2017 for pursuing initial accreditation by the Commission on Accreditation of Allied Health Education Programs (www.caahep.org). This step in the process is neither a status of accreditation nor a guarantee that accreditation will be granted.
Labouré College is celebrating 125 years of healthcare education. Located in Milton, Massachusetts, the College is an accredited, private, non-profit, Catholic institution. The longest provider of nurses in the Boston area, Labouré has expanded its academic offerings to include cutting edge online programs in healthcare science.
Sources:
http://www.femtosimclinical.com/History%20of%20Physiologic%20Monitors.htm
http://americanintraoperative.com/patient-information/
http://emedicine.medscape.com/article/1137763-overview
PowerPoint from Behrouz Zamanifekri, MD, Neurophysiology Fellow, KUMC, March 2013