While a patient is under anesthesia and the doctor is performing surgery, the intraoperative neuromonitorist is monitoring the patient to ensure their safety. Through electrical potentials emitted from the patient's nervous system, the neuromonitorist can determine if the patient is losing oxygen to the brain, or about to have a stroke, and immediately alert the surgeon. In a situation where every second counts, the presence of a neuromonitorist during surgery has become invaluable and is increasing the demand for certified IONM professionals in the operating room. A respected member of the operating team, the neuromonitorist is a patient's guardian angel in the operating room.
To better understand the history of IONM and what a day in the life of a neuromonitorist looks like, read our article Angels in the OR.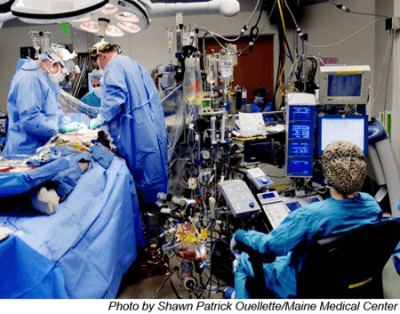 Labouré College's Intraoperative Neuromonitoring Certificate represents the latest technology in this growing field and will prepare graduates to confidently enter the operating room. Taught over two semesters, the program is predominately online. Students must travel to the College's Milton campus on three Saturdays during the program. Students also complete 16 hours per week of clinical attendance for the duration of the program.
A neuromonitorist performs a variety of specialized recordings, including electroencephalograms (EEG), evoked potentials (SSEP, BAEP, MEP), electromyography (EMG), cranial nerve (CN live and triggered, SEMG/TEMG) and peripheral nerve (PN) monitoring techniques.