What does a Neurodiagnostic Technologist do?
A ND Technologist performs procedures including: electroencephalograms (EEG), evoked potentials (EP), polysomnograms (PSG or sleep studies), nerve conduction studies (NCS), and long term monitoring all of which may aid in the diagnosis and treatment of neurological problems ranging from common headaches, head and spinal injuries as sometimes seen in athletes, seizures, sleep disorders, strokes and unexplained comas.
ND technologists work in hospitals, clinics and doctors offices. More experienced technologists may work in the operating room. With the continued rapid advances in technology some technologists also find challenging positions in the world of research, as well as within the medical instrument industry.
Labouré's Neurodiagnostic Technology program
The Online Neurodiagnostic Technology Certificate program at Labouré is one of only two fully online NDT certificate programs in the country. Courses are taught completely online and hands-on clinical training is completed on-site at a hospital near the student's home.
For five consecutive years, Labouré's NDT Graduate Employment Rate reached 100% (Source: 2009-2014) Gainful Employment Disclosures.
| | |
| --- | --- |
| 2014 | 100% |
| 2013 | 100% |
| 2012 | 100% |
| 2011 | 100% |
| 2010 | 100% |
| 2009 | 100% |
Registration Exam Pass Rate
Students completing this program are expected to take the national EEG credentialing examination administered by the American Board of Registration of Electroencephalographic and Evoked Potential Technologists (ABRET) www.abret.org.
Laboure NDT graduates' pass rate, for the registration exam, is above the national average: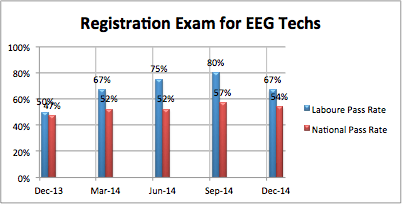 Frequently asked questions about our Neurodiagnostic Technology program: