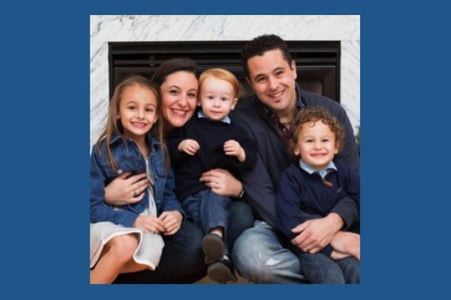 It's never too late to go after your dream. After 10 years in customer service for Harvard Pilgrim Health Care, Christina Pessia '12 decided to go after her dream of becoming a nurse. Despite having a young daughter and a new baby on the way, Christina enrolled in Labouré College's associate degree in nursing program.
While Christina originally chose to attend Labouré due to its great reputation and close proximity to her South Shore home, she quickly found herself immersed in the College community. During her tenure at Labouré, Christina sat on both the nursing advisory board and the enrollment committee, sharing her input on how to improve the school for working parents. "I felt that sitting on the committee allowed me to truly have a voice," said Christina. With a young daughter and a baby on the way, Christina was balancing a full-time job in addition to attending the College's part-time evening nursing program.
Upon graduating from Labouré College, Christina quickly found a job working at Morton Hospital in Taunton as a registered nurse on the telemetry floor. "Because of my work on the various College committees, I met the Chief Nursing Officer of Morton Hospital. After I graduated, I reached out to her and she let me know about the opening at the hospital," said Christina. Wanting to ensure that all opportunities in nursing were open to her, Christina earned her Bachelor of Science in nursing degree online while she worked. After leaving Morton Hospital, she moved to South Shore Hospital in Weymouth and continued to work in telemetry until finally achieving her lifelong dream of becoming a labor and delivery nurse where she continues to work today.
When asked about her advice for future nurse, Christina said, "Networking is extremely important. Don't be afraid to put yourself out there and meet new people. Also, always ask questions to get the resources you need whether you're at school or at work. Finally, remember to be present in the moment, especially during your clinicals. You will learn so much during each clinical rotation."
Do you want to chase your dream? Apply today.