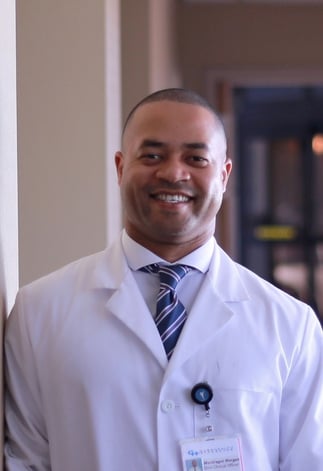 When MacGregor "Greg" Morgan DNP, MBA, RN, CRRN started at Labouré College in 1999, he was an LPN looking for a convenient, flexible path to becoming a registered nurse. What he found was a passion for learning and a diverse community that supported him on his journey. Morgan's commitment to compassionate healthcare has taken him from the Suffolk County House of Corrections to the other side of the world as a United States Army Captain when he deployed overseas as an ICU nurse. Throughout it all, Morgan has found nursing to be a great profession for those who are caring, compassionate, and dedicated to serving others. "The job is humbling", says Morgan. "If you have the aspiration to help others, nursing is the perfect opportunity to connect with people and make their lives happier."
Education is the Pathway to Opportunity in Nursing
During his career, Morgan has continued to seek higher education as a way to enhance his nursing practice. Morgan earned his MSN and MBA from the University of Phoenix and then in 2015, he went on to earn a Doctorate of Nursing Practice from Northeastern University. Utilizing both his clinical and managerial skills, Morgan now works as the Chief Clinical Officer for Curahealth Hospital in Stoughton, MA and is a certified registered rehabilitation nurse. Curahealth focuses on the treatment of medically complex patients who require specialized and intensive acute care for an extended period of time. In his role, Morgan oversees all clinical areas of nursing and allied nursing in his position and works with his team to address every aspect of patient care and concerns.
Patient-Centered Care Requires a Team Approach
Morgan's own nursing philosophy meshes well with Curahealth's interdisciplinary treatment model. Valuing the cooperation and collaboration that is crucial in the nursing field, Morgan feels strongly that he remains connected with all of the facets and faces of healthcare. To this end, Morgan begins each day with a morning huddle because he believes that "[successful patient outcomes] rely on a team approach."
Greg Morgan's ideals, experiences, and education embody Labouré College's commitment to lifelong learning. At Labouré, we are "committed to preparing practitioners who reflect on and care for a diverse patient population, and to fostering interdisciplinary approaches to address complex issues within healthcare and society," and it is so easy to see that Greg Morgan living that vision out every single day.
Looking for a career where you can change lives? Click here to learn more about how our flexible nursing program can fit into your busy life.