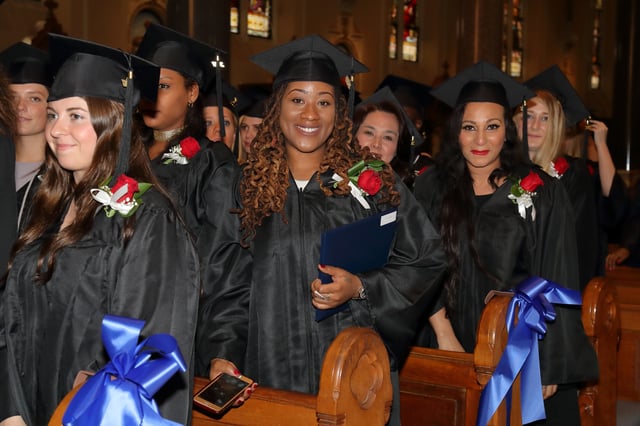 On Saturday, May 6, 2017 the Labouré College Class of 2017 Commencement Ceremony was held at the Basilica of Our Lady of Perpetual Help in Boston. The College was honored to have nine members of the Class of 1967 lead the graduates' processional and participate in a candle-lighting in honor of St. Catherine Labouré.
Jennifer Mullen, a graduate of the RN-BSN program delivered the Bachelor's Valedictory address to her classmates. Rachel Sanders, a graduate of the Radiation Therapy program, delivered the Associate's Valedictory address.
Members of the graduating class include:
·
Twenty-six RN-BSN graduates receiving their Bachelor of Science degrees;
·
One-hundred fifty-six Nursing graduates receiving their Associate in Science degrees;
·
Six Radiation Therapy graduates receiving their Associate in Science degrees;
·
Four Health Information Technology graduates receiving their certificates in Health Information Technology Coding and;
·
Thirty-seven Neurodiagnostic Technology graduates; thirty-three receiving their certificates in Neurodiagnostic Technology and four receiving their certificates in Intraoperative Monitoring
.
Penny Penniman,
Academic Skills Specialist
at Labouré, was the keynote speaker. She offered the following: "If you only remember a few things from this address, remember to celebrate your accomplishments, love being a health care provider, never stop learning and
trust
what you have learned at Labouré. Enjoy life!"
During Commencement time, those graduating W
ith Honors
were acknowledged at the Class of 2017 Dinner and Awards Ceremony on April 27. On May 4, graduates received their pins at the Pinning Ceremony.
Following Commencement events, graduates participated in the Labouré College Job Fair on May 11. Representatives from Boston areas hospitals and health care agencies met with graduates to discuss a variety of job opportunities. Our graduates as well as current students have accepted positions with several area hospitals and health care facilities including Norwood Hospital, Bayada Pediatric Center, Spaulding Rehabilitation Hospital, and Carney Hospital.
Faculty, staff, students, and alumni of Labouré extend congratulations and best wishes to all the members of the Class of 2017! Go to Labouré's Facebook page to see more photos.