We are excited to announce that Kathryn DeArruda, ASN, Class of '17; BSN, Class of '19 and Matthew Driscoll, Class of '18 will be participating in the Order of Malta /Labouré College Lourdes Pilgrimage 2018.
In association with their assigned patient and medical team, Kathryn and Matthew will travel to Lourdes, France with Nursing students from Boston College, Fairfield and Villanova Universities. The international event will bring them to meet patients and health care practitioners from the world over as they engage a journey with deeply spiritual values as they pray with and clinically attend to those in their care from May 2th to May 8th.
You are invited to join with Kathryn and Matthew and send blessings their way for our annual "Lourdes Pilgrimage Meet & Greet" on Thursday, April 26th at 4:00pm in the college foyer.
About our pilgrims:
Kathryn DeArruda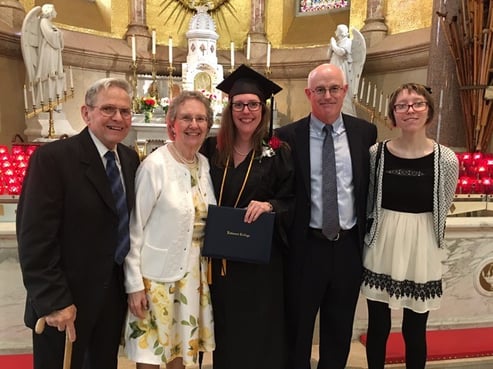 My nursing journey started when I was young and I have spent much of my life around older, elderly, and sometimes sick people. My love and skills to care for the sick began in my early teens as a volunteer at a local hospital. However, I chose to pursue a different career. It wasn't until my daughter was born that I finally heard the message one Easter Sunday morning at church that my true vocation became clear. I began working toward my nursing degree in 2001 and earned my LPN from Quincy College in 2003. Despite a few unexpected delays in my education, I received my associate's degree from Labouré College in 2017. Inspired and encouraged by Labouré's Catholic foundation, I know that nursing is a way to serve the sick as Jesus taught; a way to meet people where they are; and that nursing is rooted in the true belief that all people have worth.
Some of the most rewarding work I do is emotionally comforting and supporting patients when they are despairing. I currently work at St. Luke's Hospital in New Bedford, Massachusetts because it is the South Shore's greatest need. I advocate intensely for the most difficult of people to take care of-the alcoholics, drug addicts and mentally ill-on an intermediate-care floor. I cannot do this work without my faith in God and in trusting that the will of God will not take me where the grace of God cannot help me. I am currently pursuing my bachelor's degree at Labouré College with anticipated graduation in the spring of 2019.
Matthew Driscoll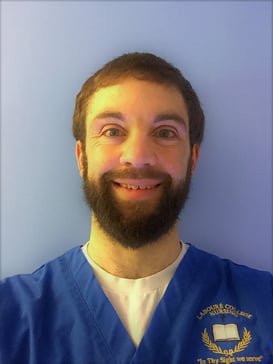 Since childhood, my family instilled the importance of service and of giving back to the community, a notion that has grown within me and led me down the path to nursing. Along this path it became evident that to experience true health we must look beyond the physiological realm. Spirituality is one realm through which I have experienced a deeper sense of healing and wellbeing. To me, nursing is much more than a career path; it's a vocation that requires compassionate caregivers to see the patient as an individual and to attend to all their human dimensions. Nursing is also a way to serve individuals physiologic, psychological, and spiritual needs. While my part in the bigger picture is small, my hope is that I can help people experience true healing through which they can go forth and become positive forces of healing throughout their communities.
All the best Kathryn and Matthew!