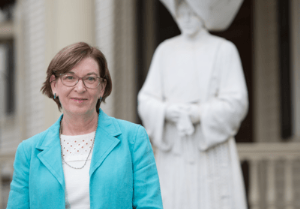 On behalf of the Labouré community, I would like to welcome you to our site and thank you for your interest in Labouré College.
If you are trying to decide if Labouré is right for you, let me take this opportunity to tell you a little bit about the College. In over 25 years of coming to work at Labouré, here's what inspires me the most:
First—our students.
Our student body is incredibly diverse in experiences, background, age, religion, and ethnicity. Though very different, our students share a common goal— to become exceptional healthcare professionals. Some are fresh out of high school, some are raising small children, and some are returning to school after decades of being away from any educational endeavor. I find our students' determination and desire to care for others to be utterly inspiring.
Next—our team of dedicated faculty and staff.
Our small campus and faculty-to-student ratio create opportunities for a high level of student engagement in the learning process and rich bonds between professor and student. Our faculty is passionate about what they do and about their chosen fields of study and they share this passion with their students. Our staff is focused on supporting you in ways that enhance your academic achievement so that you will become the best nurse or healthcare professional possible.
Lastly—our Catholic mission.
Regardless of individual religious beliefs, everyone in the Labouré community is committed to our mission and the universal themes of human dignity, social justice, and compassion. These are values woven into the fabric of Labouré College.
I hope that you will consider all that we have to offer you here at Labouré. You will become part of a 124-year-old institution committed to excellence in healthcare education. And with hard work, you will become a Labouré graduate—a person that does the ordinary, extraordinarily well; who maximizes talents and opportunities; who treats all with fairness and respect; and who integrates integrity and creativity into all that you do.
Maureen A. Smith
President