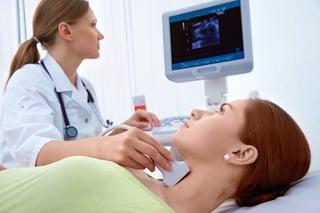 This is a new program that is being developed. Please contact the Admissions Office to add your name to a contact list for more information once it is available. admissions@laboure.edu or (617)322-3575
Labouré's Professional Certificate in Vascular Sonography is the only vascular sonography program in Massachusetts.
The 16-month program combines theory with hands-on clinical learning. This will provide you with both the skills and knowledge to begin your first job as a competent vascular sonographer.
What is Vascular Sonography?
The vascular concentration of diagnostic medical sonography is non-invasive testing that images blood vessels within the circulatory system.
Vascular/Doppler sonography detects stenosis, atherosclerosis, blood clots (DVT), venous insufficiency, evaluation of stents and grafts, and blood flow perfusion abnormalities.
The vascular sonographer is a highly specialized, nationally registered healthcare professional. Vascular technologists must posses and integrate a thorough understanding of patient care skills, ultrasound physics, Doppler sonography, cross sectional anatomy, both physiology, and exercise physiology, and pathophysiology.
Watch this video from the Society for Vascular Ultrasound to learn more about what Vascular Sonographers do each day!