Captain Muriana Jeanniton has spent her nursing career working to prevent suicide in the armed forces as a psychiatric-mental health nurse practitioner.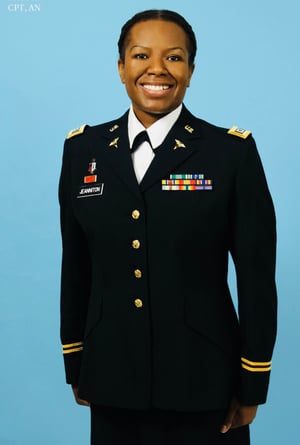 A native of Savanette, Republic of Haiti, Muriana Jeanniton moved to the United States as a child. She began her nursing career at Labouré College before continuing on to become a Psychiatric-Mental Health Nurse Practitioner and open her own private practice, Beautiful Mind Psychiatric Mental Health Services. Dr. Jeanniton served her country for over 11 years and is currently a Captain and Psychiatric Nurse Practitioner in the United States Army Medical Department, US Army Reserve.
Lieutenant Colonel Keith A. McGee, Battalion Commander for the 443rd Civil Affairs Battalion, nominated Dr. Jeanniton, saying "For more than 10 years, Dr. Jeanniton has gained extensive experience across the span of medical and mental health treatment." He describes her extensive work with the US Army, including a deployment to Haiti following the earthquake in 2010, and participating in US Army Medical Unit Extended Combat Training, noting that she not only had medical and treatment duties, but often also served as translator and linguist.
McGee describes Dr. Jeanniton's impact on the 443rd Civil Affairs Battalion when she joined the unit less than a year after the unit experienced the suicides of a former non-commissioned officer, a soldier's older brother who was also a veteran, and an officer's uncle who was also a veteran. "The unit needed help badly. In October 2016, Captain Jeanniton personally prevented the suicide of a senior officer. Captain Jeanniton is one of the finest military officers I've met in 21 years of service. She came to my unit at a time when my personnel and I needed expert help. Her dedication and selfless service to the military and veterans has directly saved lives."
To read more about Muriana Jeanniton from Lt. Col. McGee, please click here. You can also learn more about Beautiful Mind Psychiatric Mental Health Services at http://beautifulmindpsychiatry.net.
Muriana Jeanniton is one of five alumni being inducted into the Alumni Hall of Fame this year. Learn more about our other inductees in our blog posts throughout the week.