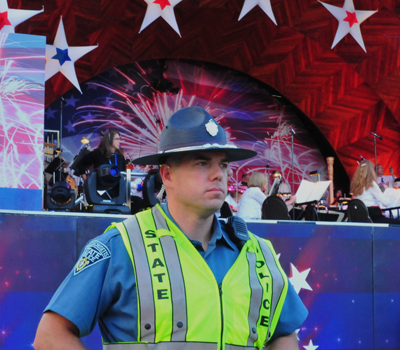 On April 19, 2013, Massachusetts State Trooper Christopher Dumont responded to an unprecedented assault on law enforcement – the shootout in Watertown with the men responsible for the Marathon bombing and the murder of MIT Police Officer Sean Collier. In those early morning hours, his training as an EMT and Paramedic enabled him to save the life of a fellow first responder. Officer Richard Donohue had been shot in his femoral artery and was lying in a driveway, rapidly losing blood. Surrounded by gunfire and homemade explosives, Trooper Dumont got his medical kit from his cruiser and led a team of officers to slow the bleeding and assisted with the transport of Donohue to a local hospital where he suffered prolonged cardiac arrest. Officer Donohue lost nearly all of the blood from his body and officers worked through the night, transporting blood from other hospitals to provide medical staff with the blood and platelet donations he needed to survive. Trooper Dumont's paramedic skills saved Officer Donohue's life.
Join us on June 8 for a night of great wine, food, laughs, and tears, as we honor Trooper Dumont and all the nurses, healthcare workers, and medical first responders of Massachusetts. Buy your tickets today!
Both men are now dedicated ambassadors of the American Red Cross and educate the public on the importance of blood donation. Since the Watertown incident, Trooper Dumont has trained as a Tactical Medic and instructs public safety professionals in emergency medical care, including new methods of preventing extreme blood loss. He dedicates his life to making sure that our community is safe and prepared for anything.

(left: Trooper Dumont and Officer Donohue; right: Donohue and Dumont donate blood)
Donna Morrissey of the American Red Cross nominated Trooper Dumont for the 2017 Massachusetts Care Award. In her nomination, she described his bravery, calmness under pressure, and dedication to service: "Trooper Dumont is eminently qualified for this award due to his bravery as a first responder and his qualifications as a paramedic. As a regular blood donor and ambassador for the Red Cross, he has encouraged people to give blood to ensure the safety of the patients who need it. Trooper Dumont, on behalf of the Massachusetts State Police, has been tireless in his willingness to donate countless hours to teach others about the importance of volunteering, working together, and doing all that he can to make sure that our communities are prepared."
Trooper Dumont was presented with the Massachusetts State Police Medal of Honor, the department's highest award, for his actions during the Watertown shooting. He also received the National Association of Police Organization's 2014 Top Cops Award in Washington, DC and was named the American Association of State Trooper's 2014 National Trooper of the Year.
Labouré College established the Massachusetts Care Award to honor local nurses, healthcare professionals, and medical first responders who exhibit extraordinary compassion. The College believes that these individuals should be celebrated both as examples to our own students, and as reminders to all of us of the exceptional care and protection we receive everyday as citizens of Massachusetts.
Trooper Dumont will be honored this year along with three other incredible winners: Donna Morrissey of the American Red Cross; Sean O'Leary, RTT of Tufts Medical Center; and Catherine O'Connor, founder of the Health in Motion van and clinical instructor at Northeastern University. It is our privilege to shine a light on each of these compassionate caregivers. Buy your tickets today!
About Labouré College: Celebrating 125 years in healthcare education, Labouré is the longest provider of nurses in the Boston area. Labouré College is an independent, private, non-profit, Catholic college, specializing in nursing and healthcare career education. The College is located at 303 Adams Street in Milton.