January 8, 2018
Labouré Student Spotlight: Stephanie Ledo, Student in Radiation Therapy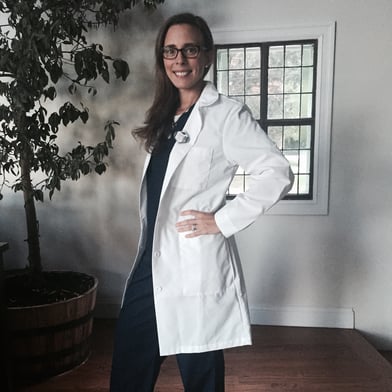 After watching her grandmother suffer through treatment for stomach cancer, Stephanie decided to pursue radiation therapy so she could help others during the most difficult times of their lives.
What is your background? Have you always been in Radiation Therapy or is this a career change for you?
After graduating from UMass Amherst in 2000, I worked in public relations and as a high school English teacher. However, I knew in my heart that
I wanted to work in the healthcare field. Training and working as a phlebotomist only strengthened my desire to pursue a degree in radiation therapy. Now that both of my children are in elementary school full time, I am able to pursue the dream I have had for so long.
Where are You Working
Now?
Currently, I help my husband who is a Subway owner/franchisee. We have three Subway locations in Taunton, MA. I handle the human resources and accounting. I am also a yoga teacher at Work Out World.
What Inspired You to Go into Radiation Therapy?
Nearly twenty years ago, my grandmother was diagnosed with stomach cancer. I watched on the sidelines not knowing anything about how to help her. I felt so helpless. After her passing, I started searching for a career that focused specifically on helping patients with cancer. That is how I found radiation therapy.
I see radiation therapists as bridges between patients, families, doctors, and nurses. Radiation therapists work with and take care of the patients with cancer everyday. I was so inspired by the fact that radiation therapists are able to build relationships with patients and guide them through their entire treatment helping them everyday fight the cancer battle. One of the most rewarding aspects of the career is knowing that you can truly make a difference in someone else's life.
Why did You Choose to Enroll in Labouré's Radiation Therapy program?
I choose Labouré not only because of its outstanding reputation in the New England area, but also because of the small class sizes. Every student receives individualized attention. I also love that Labouré is completely focused on preparing students for careers in the healthcare field. I also appreciate Labouré's mission and Catholic identity. One of the best classes I have taken was spirituality in healthcare. It truly opened my eyes to the spiritual aspect in the healthcare profession.
The availability of online classes and afternoon/evening class times made attending possible for me as a working mom. Many classes are at night so you can still have a day job. I loved taking my classes online over the summer. Many of my other classes are in the afternoon/night, so during the day, when my children are at school, I work on my homework or work at our Subways. Then when my children come home from school, I can get them started on their homework, then head up to class while my husband takes over. I am so incredibly thankful that I have such an amazing husband and family who have supported me 100%.
How is Labouré Helping You Prepare for Your Career in Radiation Therapy?
Labouré has absolutely prepared me for a career in radiation therapy. In the general education classes, I learned so much about the healthcare field as a whole. In the radiation therapy program, every class is structured to guide students towards not only achieving their radiation therapy license, but also for optimum success in the field. Each professor is employed in the field and they are all an absolute wealth of knowledge sharing all their experiences. I have loved the clinical aspect of the program. Hands-on training with the therapists and working with the patients has truly helped to enrich everything I learned in the classroom.
What Advice Do You Have for Prospective Students Who are Considering a Career in Radiation Therapy?
My first piece of advice is to research all the aspects of the radiation therapy profession, whether researching online or visiting a radiation/oncology clinic to really understand what the career entails. Then, I would recommend scheduling an information session at Labouré College to learn everything about the Radiation Therapy program. Finally, I strongly suggest taking an algebra course or a basic physics class in preparation for the radiation physics classes that are in the radiation therapy program. Being a part of the radiation therapy program here has been such an amazing, life-changing experience and I hope others will be inspired to look into this rewarding career.