"I'm proud to say that I was the first black nurse in the pediatric open-heart unit at Boston Children's Hospital and I know it's because of my experience at Labouré."
Janice Ervin, RN, is a graduate of Labouré College class of 1979. When speaking about her long and diverse career as a nurse, her dedication to her patients and quality healthcare shines through.
Why did you go into nursing?
I always wanted to be a nurse, ever since I was 7 years old. I don't really know why, but it's true. When I was little, my family would buy me the little nurse kits with candy pills and I would pretend to bandage up and take care of my 9 brothers and sisters. It seemed like an impossible dream when I was younger because we didn't have any money. After getting married young, I moved to Boston and enrolled in an LPN program at Shepard-Gill School of Practical Nursing. I was able to get a scholarship from a generous woman named Lucy Snowden and I graduated in 1973.
Why did you choose to come to Labouré College for your RN?
After graduating from Shepard-Gill, I worked at temporary nursing agencies doing night shifts so I could be at home with my two daughters, Kierston and Ramona. There was a rumor going around at the time that LPNs were being phased out and so my director at the temp agency, as well as friends of mine, encouraged me to go to Catherine Labouré. They said it was the best nursing school in the state with the best teachers and the best curriculum. After I got accepted, I got a student loan and I was working part-time as a computer operator and a nurse at the temp agency. Because I was already an LPN, I thought I would breeze through but this was the hardest thing I ever had to do in my life. I was one of only 6 black students in my class of 206. Two years later, after passing all the final exams and meeting the clinical requirements, I made it!
What was your first job after graduation with your RN from Labouré?
I started my first job at Boston City Hospital (now Boston Medical Center) as a general nurse on the pediatrics floor, Children's Five, a twenty bed unit. Everything I learned, I was finally able to put into practice, being in charge, starting IV's, doing all kinds of treatments. Since Boston City was a teaching hospital they often offered free classes, and every time they offered, I accepted. I learned a lot of high tech skills, intubation, drawing blood gases, pediatric trachs etc.
What other kinds of nursing jobs have you had over the years?
I'm proud to say that I was the first black nurse in the pediatric open-heart unit at Boston Children's Hospital and I know it's because of my experience at Labouré. It was a tough job! Setting up a cardiac room for a patient coming to the unit from open-heart surgery takes several hours. When that cardiac team rolls into the unit with that patient and the bed, you have to be ready to attach and hook up everything; the respirator, arterial lines, intra cardiac lines, chest tubes, Swan Ganz, pacer wires, all IV solutions, all pumps, all monitors, just everything. The child has to have a head to toe assessment; labs and blood gases have to be drawn. You have to be able to observe and recognize all post op complications and know what emergency action to take. It is a big responsibility.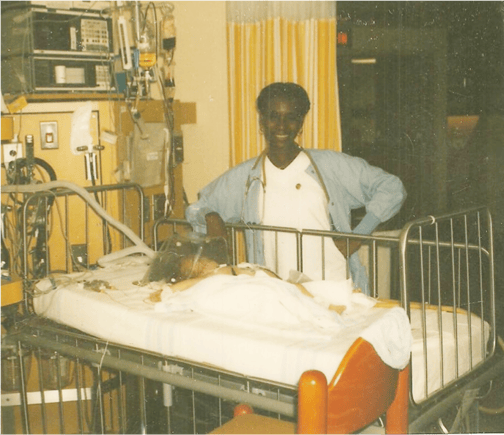 After a year at Boston Children's Hospital, I moved to Chicago to be closer to my parents and worked at Michael Reese Hospital in the pediatric intensive care unit. We had a variety of cases from burn victims, to multiple trauma, respiratory cases, post surgical complicated cases, to long-term ICU cases.
Then I took a job at Ingalls Memorial Hospital in the adult ICU. I figured it would be a boring little job since it was out in the suburbs and probably didn't see much action. Boy, was I wrong! It was a medical-surgical ICU, an occasional cardiac, and many multiple trauma and gunshot wounds. We took care of intubated patients, and patients with Swan Ganz catheters.
Tell me about your transition to home care nursing.
I moved to Miami, FL in 1983 with my daughters. Initially I worked in an adult ICU, but I wanted more time with my youngest daughter, Syreeta. It gave me more freedom and more money, and also a way to learn about the city. I went all over to all sections of the city and I had a variety of patients: diabetics, hypertensives, wounds, post-op surgical, cardiac and cancer patients. I started doing a lot of chemotherapy patient's and my ICU experience with all kinds of pumps came in handy. I also became a high tech infusion nurse.
I really enjoyed home health because of the variety of cases, plus I got the opportunity to do a lot of patient teaching. I started doing a lot of wounds. The more complicated they were, the more I enjoyed doing them.
Where are you working now?
I'm still working in home care. I had some medical setbacks that actually caused me to retire for a couple of years in 2009, but I wanted to get back to nursing so badly. In 2015, I returned to nursing and have been doing home care since then. Would you believe that I'm even better at it now at 70? I'm so glad to be back. I never thought I would be back.
I love getting up each day to go to work. I would see patients for free. I cannot leave them hanging when I have the knowledge to help them.
What advice do you have for future nurses?
New nurses need to be committed and do the best for their patients. Remember that you are dealing with someone's life and you have the knowledge to help them. Focus on the patient and keep their best interests at heart. Treat all patients with compassion.
Labouré College is celebrating 125 years of nursing and healthcare education in Greater Boston. A private, non-profit institution, Labouré is guided by a Catholic mission of providing exceptional education to a diverse population of men and women who dream of a career in a caring for others.